Investment in Wellness
Workplace stress results in lower productivity, increased absenteeism, and job-related accidents. Realizing that preventive measures are needed in today's environment of skyrocketing health care costs, businesses are investing heavily in wellness programs in the workplace. Many companies are finding that on-site chair massage can be an important part of a successful wellness program.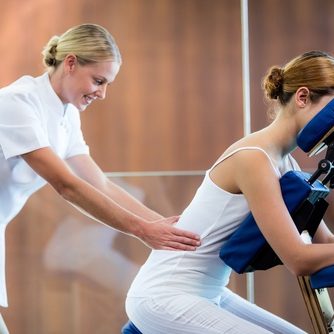 An on-site chair massage:
Is convenient – the therapist comes directly to you with portable massage equipment.
Involves no tables, sheets, or oils – your seated massage take place directly through your clothing.
Won't disrupt your work day – the massage is usually about 15 to 20 minutes in duration (about the same as a coffee break)
Is an easy wellness program in which to participate. All you need to do is relax and enjoy!
Request A Quote For an On-Site Chair Massage
To request a quote, please submit the following form: