Investment in Wellness
1 Therapist: $110.00 per hour (minimum 3 hours)
2 - 5 Therapists: $100.00 per hour, per therapist (minimum 3 hours)
6 or more Therapists: $90.00 per hour, per therapist (minimum 5 hours)
Whether you know it or not, many daily tasks that you do on the job can create a lot of stress on your body.  For example, many repetitive motions such as typing, lifting, and driving can cause many problems.  And as if that weren't enough, your job can also cause emotional strain. 

To address these prevalent challenges experienced by everyone, on-site chair massages offer an excellent remedy.

Workplace stress results in lower productivity, in­ creased absenteeism, and job-related accidents.  Preventive measures are needed in today's en­vironment of skyrocketing health care costs, businesses are investing heavily in wellness programs in the workplace.  Many companies are finding that on-site chair massage can be an important part of a successful wellness program.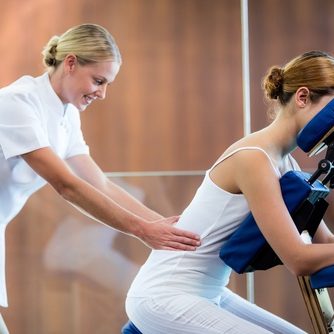 Why hire an on-site chair massage?
Its convenient – the therapist comes directly to you with portable massage equipment.
Involves no tables, sheets, or oils – your seated massage take place directly through your clothing.
Won't disrupt your work day – the massage is usually about 15 to 20 minutes in duration (about the same as a coffee break)
Is an easy wellness program in which to participate. All you need to do is relax and enjoy!
Easing Your Stress
Accumulated stress and tension diminishes your energy and vitality. The Rejuvenating effects of a massage in the middle of your workday may surprise you. A therapist's touch can:
Invigorate you as it loosens your tense muscles and stimulates your blood circulation.
Enhance your ability to think and concentrate as the circulation of oxygen-rich blood to your brain and body is increased.
Help you to feel alert, refreshed, and ready to get back to work.
Help you get in touch with your body and educates you about where you store stress, tension, and how they affect you.
Alleviates some of the pain of chronic job-related conditions such as carpal tunnel syndrome. Your massage therapist can address your specific problem areas.
Request A Quote For an On-Site Chair Massage
To request a quote, please submit the following form:
The Versatile Treat
On-site massages aren't just restricted to the workplace. There are many locations and events that you can use it to show your appreciation, fundraise, or promote your product or business.
Charity Fundraisers
Health Fairs
Company Anniversaries
Parties
Baby Showers
Bridal Shower
Community Health Centers
Community Fairs
Shopping Malls
Sporting Events
Yoga and Fitness Studios
Senior Centers
Waiting Rooms
College and Universities
Conference and Trade Shows
Conventions and Expos